1799 JESSE TUTHILL HOUSE
(Visit the "Tour" page to see photos of the house.)
Jesse Tuthill was born in 1775, and was a direct descendant of Henry Tuthill, born in Tharston, England, who was the first Tuthill to arrive in Southold in 1648.
MUSEUM EXHIBITS
By Norman Wamback, Curator/Historian
THE 1760 SCHOOLHOUSE
Our newest exhibit was
disassembled at its original
location with each timber
marked and catalogued,
so it could be reassembled
and restored at its new home
on the museum grounds.

Thanks to the generous
donations of time,
materials and equipment,
another piece of our local past
will be
preserved for the future.
In 1792, west of the population center of Mattituck, was another population center of farmers. Because of its distance from Mattituck (2 miles), it was considered at that time to be so remote that it became referred to as Egypt. The present hamlet of Oregon had gotten the name for its distance north of Cutchogue, and an area at the eastern tip of the North Fork, Orient, got is name for the same reason. A small population area just east of Oregon had been called Canada. The areas of Egypt and Canada never established themselves as legal hamlets or village names.
1841 IRA TUTHILL HOUSE
(Visit the "Tour" page to see photos of the house.)

Ira Tuthill, the second oldest son of Jesse Tuthill and Thankful Hallock, married Eliza Goldsmith on April 29, 1819. Eliza Goldsmith was born March 8, 1799. About 1830, Ira Tuthill owned and operated a sailing ship that sailed between New York City and a pier in a safe harbor at the south end of the Albertson Farm, called Robins Island Neck, later to become the village of New Suffolk.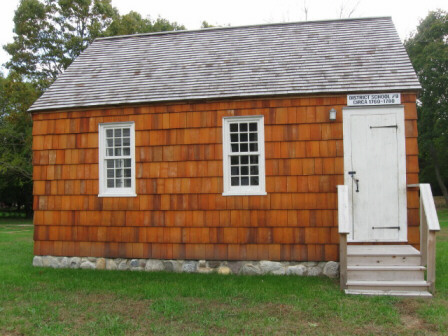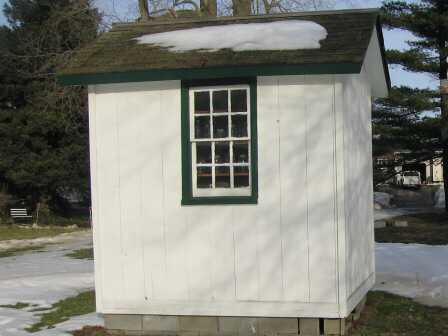 OUTBUILDING (Circa 1900)
Sometimes referred to as the Barn, nothing is known about this two-room structure with a dormer window and stairs to the second floor. The building has a cellar containing a well and cistern. The building was once heated, as evidenced by the large chimney in the center of the building.
The building today is used to display the collection of 19th Century farm implements, and a 1924 farm truck which is displayed on the museum grounds on weekends.
MILK HOUSE (1880s)
This structure was donated by Mr. and Mrs. Robert Bergen of Mattituck from the Bergen Farm on Route 25, and contains implements for skimming milk, butter churns, and more.
In 1792, a one-room school house was built on Aldrich Lane near Sound Avenue in the population center west of Mattituck. It was referred to as the Egypt School. In 1845, a larger one-room school was needed. The new school was built in 1846 east of Aldrich Lane, on the north side of Sound Avenue, a few hundred feet east of Bergen Avenue. This location was chosen because the center of population had shifted further east. The large, one-room school house, in the Greek Revival style, cost $400 to build. Its foundation of bluestone had come from Connecticut as ships' ballast. This new school was, of course, referred to as the New Egypt School.
In 1799, Jesse Tuthill and his wife, Thankful Hallock, built a house on the Main Road in Mattituck. It was a one-storied house measuring 15 feet by 28 feet. Here they raised their eleven children. Thankful Hallock died on March 31, 1821, at the age of 45. Jesse Tuthill then married Polly Horton, born June 5, 1789. Jesse Tuthill passed away on August 8, 1844, and his second wife, Polly Horton, passed away on January 31, 1857.
About 1900, the roof on the Jesse Tuthill house was raised, and a low second floor was added. Today, one room displays rope beds and a chamber pot collection. The second room, called The Gildersleeve Room, contains memorabilia from Andrew Gildersleeve and his descendants. Andrew Gildersleeve, a man of great accomplishment, came to Cutchogue in the mid-19th century. He owned a tanning business, a farm, and was the Cutchogue and Mattituck coffin maker, charging $1.50 per coffin.
Andrew Gildersleeve was also a master builder, In 1852, he built the present Cutchogue Presbyterian Church, followed by the Mattituck Presbyterian Church in 1853. In 1854, he moved to Mattituck with his family, building the Church Manse, the Octagon House on the corner of Main Road and Love Lane, as well as several other houses in Mattituck.
Today, the two rooms on the main floor of the 1799 Jesse Tuthill House contain a collection of 18th Century kitchen implements, a collection of 19th Century women's dresses, and a fine collection of Native American artifacts, some dating back to 5,000 BC, found on Mattituck farmland. Also, these rooms house a display of earthenware, stoneware and red ware from the 19th century.
Andrew Gildersleeve opened a general store in Mattituck which was operated until the mid-1950s by his grandsons. He was a trustee of the Mattituck Presbyterian Church, and also an elder and Sunday School superintendent. He was Chairman of the Board of Assessors of the Town of Southold as well as Highway Overseer and Mattituck Postmaster.
Today, all the rooms in the house but four are set up with 18th and 19th Century furnishings, all donated by local residents. Of the four unfurnished rooms, one contains a collection of twenty-four 19th Century patchwork quilts; another contains 19th Century women's hats and shoes; the third, 18th Century rifles, World War I and II uniforms, and a large display of miscellaneous items: a whalebone scrimshaw, a ten-million-year old whale's tooth, and a whalebone harpoon. Also on display are old cameras, and the first Mattituck Fire Department helmet from 1907, plus other interesting items. The fourth room contains a collection of 18th Century children's toys and clothing.
Ira's ship, a packet sloop named Atlantic, carried passengers and freight between these two points. As the Long Island Railroad was not built until 1844, traveling by sea was the fastest and safest means of transportation. Amassing a small fortune by age 40, Ira built a large, two-storied, nine-room addition to his parents' house. Moving his family there, he took up farming and ran a general store. Ira Tuthill died June 3, 1872, and his wife, Eliza Goldsmith,, on September 19, 1882.
Today, the school house contains a permanent exhibit of American flags, from 31 stars to 50 stars, along with the history of the times they were in use. Also on display is a collection of cast iron kitchen implements dating from the 19th Century. The history of the water mill, built in 1821 and now a restaurant, along with pictures and artifacts found under the mill, are on permanent display.
The third permanent exhibit in the school house is the history of the Mattituck House Hotel, built before the American Revolutionary War, along with photographs and memorabilia. A fourth exhibit is a mid-19th Century wooden scoop found along the banks of the Reeve's cranberry bog in Mattituck, along with a postcard of the cranberry bog, circa 1907.
Our Curator is at work putting together a permanent written and pictorial history of the four Mattituck school houses, dating from about 1780 to 1934. This permanent display will be ready in the Spring of 2008.
Displayed on the grounds of the museum is a long, low snow sled which held twelve people. It was built in the late 19th Century by Raynor Wickham and his brothers, Cedric and Spencer. They were the sons of Charles Wickham of Mattituck. The sled was built purely for fun and was used by the boys and their friends to ride down the north side of Marratooka Lake onto the ice. Sometimes pulled by a horse, the sled rode over the snow-covered farm land in the area.
NEW EGYPT SCHOOL HOUSE (1846)